Wood Return Air Grilles (Panel Only)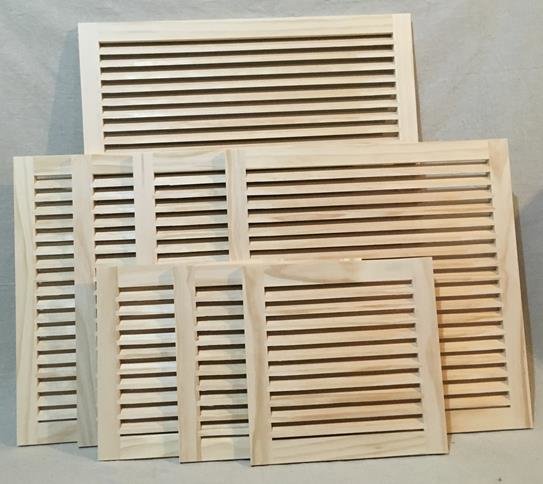 Wood Return Air Grilles offer the same all wood aesthetic upgrade, but are for those applications where the filter is not located behind the grille.  Constructed of select grade materials and assembled to precise specifications, WoodAirGrille Return Air Grilles are ready to finish with your favorite paint or stain.  Each louver is mechanically reinforced in its own mortise for extra long life and rattle free performance.  Unlike the filter grilles, these panel only grilles have no outer frame, hinges or filter housing.
Three distinct profiles are available to compliment your home's trim.  The standard square edge provides a crisp, clean look or can serve as a blank slate to be trimmed out on site.  The half round style offers a softer look and features a half round bead applique around the grille and a quarter round eased edge around the frame.  The ogee edge style gives the grille a more intricate appearance with a frame profile and applique reminiscent of a quality crown molding.
Ordering is easy.  Simply click here and find the grille that matches your intake size.  Remember that orientation is important and our grilles are stated width first, then height.  Wood Return Air Grilles are for wall or ceiling use only.  If you do not know your intake size, use our Wood Return Air Grille (Panel Only) Specifications & Size Chart for help selecting the right grille.